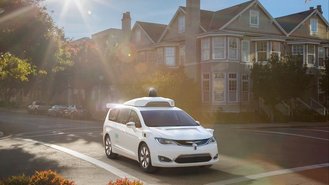 Various tech companies have started to test autonomous and semi-autonomous vehicles. Instead of developing their own cars, tech companies, like Google's Waymo division, have resorted to using vehicles from traditional automakers for their testing purposes.
Fiat Chrysler Automobiles (FCA) has been the main supplier of cars for Waymo since 2016. Now, it looks that partnership will take another turn, as Waymo has ordered an additional 62,000 Chrysler Pacifica Hybrids to add to its fleet of driverless cars. Before this announcement, Waymo had a total of roughly 600 Chrysler vans that it used for testing.
In addition to adding more minivans to its fleet, Waymo and FCA are exploring the possibility of incorporating technology from Google's self-driving company into the automaker's road-going vehicles.
"FCA is committed to bringing self-driving technology to our customers in a manner that is safe, efficient and realistic," said Sergio Marchionne, CEO of Fiat Chrysler Automobiles. "Strategic partnerships, such as the one we have with Waymo, will help to drive innovative technology to the forefront."
Neither Waymo nor FCA provided more details on what kind of "self-driving technology" it would make available to the public.
The announcement to add more Pacifica Hybrid minivans to its fleet was first agreed to in January. Despite having an affinity towards Chrysler, Waymo also has plans to get cars from Jaguar. Waymo announced earlier this March that it would add 20,000 I-PACE SUVs to its fleet by 2020.
While numerous automakers and technology companies are testing autonomous vehicles across the nation, Waymo seems to be at the top of the totem pole. The company has traveled over six million miles with its self-driving vehicles.
More importantly for FCA, injecting Waymo's driverless technology into the brand's struggling Chrysler arm would help it become relevant again. Rumors have started to circulate that CEO Marchionne could be planning to kill off Chrysler and its tiny lineup of two models.