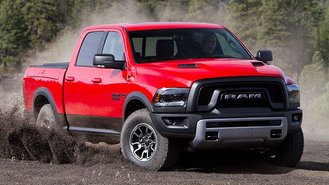 Fiat Chrysler Automobiles is recalling over 1.25 million pickups in the US, Canada, Mexico, and other markets to fix a software flaw that has already been linked to one death, two injuries, and two accidents. The affected vehicles include 2013 through 2016 Ram 1500 and 2500 pickups, and 2014 through 2016 Ram 3500 pickups.
According to FCA, a bad piece of code could prevent the passenger-side airbag from deploying. If a particular computer module were "subjected to a significant underbody impact," like from a piece of debris, the code might read the impact as a sensor failure. An instrument-cluster warning light would activate and prevent the deployment of the side airbag and seat belt pretensioner during a vehicle rollover.
If the warning light is illuminated, the system can be restored to its normal function by turning the ignition "off" and then "on/run." If that corrects the problem, the warning light will turn off. Despite this corrective measure, FCA "urges affected customers to follow the instructions on their recall notices."
Owners will be notified and advised when they may schedule a free service, which will see dealers reprogram the affected computer module.