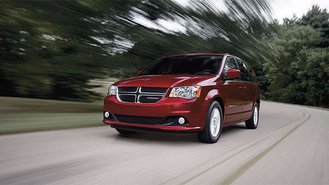 Owners of some Dodge Grand Caravans will have to take their vehicles in for repairs due to a potential airbag problem.
Approximately 297,000 of the minivans in both the US and Canada are subject to a recall over a wiring problem that could cause sudden airbag deployment on the driver's side, according to Reuters. The deployment could lead to driver injury and increase the likelihood of a crash. Fiat Chrysler Automobiles, maker of the Dodge Grand Caravan, reports eight injuries are linked to the problem.
The airbag deployment, however, is not thought to be linked to any of the Takata recalls that have affected millions of vehicles over the last two years.
FCA says it will start repairs on the affected Grand Caravans in July. Dealers will replace wiring and, if necessary, apply a special coating, free of charge. Notifications to affected customers should start going out later this month.
For more information, visit FCA's recall website or call Dodge Customer Care at 1-800-423-6343.