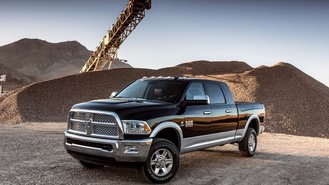 Fiat Chrysler Automobiles recently announced a voluntary recall for approximately 443,712 medium- and heavy-duty pickup trucks for a problem affecting the water pump on diesel-powered models that could cause in a fire.
The issue affects Ram 2500 and 3500 pickup trucks, as well as 3500, 4500, and 5500 chassis cabs from 2013 to 2017. The recall is limited to vehicles that are fitted with the Cummins-branded 6.7-liter turbodiesel engine.
The problem, according to the automaker, is that some trucks may be equipped with a water-pump bearing that when exposed to certain conditions, could overheat and lead to a fire in the engine bay. FCA discovered the issue after receiving some feedback from its customers, which led to an investigation by the automaker.
FCA claims that it is unaware of any injuries or accidents that were caused by the problem and owners with affected vehicles will be advised by the automaker when a fix becomes available. Consumers with any questions can contact FCA's U.S. Recall Information Center at (800) 853-1403 for more information.