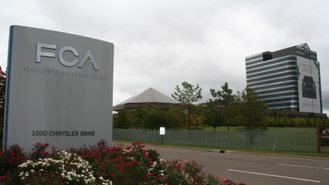 Fiat Chrysler Automobiles will join Ford, General Motors, and Tesla in the production of medical supplies to help emergency personnel combat the spread of the coronavirus. According to a report by Reuters, FCA will produce 1 million face masks a month to be distributed across North America. The Italian marque is also producing face masks for patients that are currently hospitalized in Italy.
"Production capacity is being installed this week and the company will start manufacturing face masks in the coming weeks with initial distribution across the United States, Canada, and Mexico," stated FCA in a press release.
The outlet states that Exor, an investment firm that belongs to Italy's Agnelli family that is a controlling shareholder for both FCA and Ferrari, has already pledged assistance to help those affected by the virus in Italy. FCA and Ferrari are currently holding talks with Siare, the largest respirator manufacturer in Italy, to help the company double the amount of respirator it produces.
Facemasks and other types of respirators are short in supply as the coronavirus continues to spread across the country. With automakers, including FCA, shutting down automotive factories in North America amid concerns over the coronavirus pandemic, now's a good time as any to lend a helping hand to those in need. While it's a small difference, other American brands, are working on respirators, not facemasks. Respirators provide better protection from the environment by purifying the air being breathed in or by providing a source of air for people to breathe in.
A lot of American automakers, like Ford, GM, and Chrysler have helped out during global crises. During WWII, Chrysler went from making cars to producing military trucks, tanks, components for aircrafts, and ammunition. Fiat, which became Chrysler's controlling shareholder in 2009, built airplanes and tanks for the Italian military during WWII.
The number of confirmed coronavirus cases in the U.S. has risen to 52,145, while the number of total deaths has risen, as well, to 677, according to data from Johns Hopkins University & Medicine.