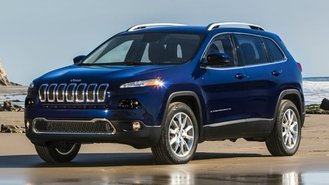 The sales numbers are officially out, and the big winner for the month of September is Fiat-Chrysler Automobile (FCA) and their 5-brand lineup which includes Chrysler, Fiat, Dodge and RAM. But the superstar for September for FCA was none other than Jeep. The crossover-heavy brand was the main reason why sales for the group increased by a solid 14 percent, according to sales data from Automotive News. Moreover, FCA is on an absolute sales tear as of late, netting its 66th consecutive month of year-over-year gains.
Jeep's sales were up 39.8 percent year-over-year, and the big sellers were the Jeep Cherokee, Compass and Renegade. The Cherokee, which underwent a huge redesign for the 2014 model year, continues to gain popularity among crossover shoppers who want something brawnier than the typical CR-V or RAV4. The model sold a record 20,224 units for September, surpassing even the popular Wrangler in the process, which itself had solid sales of 17,583 for the month.
Beyond the new designs found in Jeep's lineup, the incentive landscape has been especially robust. Incentives for almost all of Jeep's models were strong for September, with the trend likely to continuing into October.
Jeep Cherokee Incentives »
Jeep Compass Incentives »
Jeep Grand Cherokee Incentives »
Jeep Patriot Incentives »
Jeep Renegade Incentives »
Jeep Wrangler Incentives »
Jeep Wrangler Unlimited Incentives »