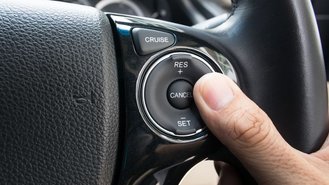 Fiat Chrysler Automobiles (FCA) has issued a massive recall that affects 4.8 million vehicles in the United States. Drivers behind the wheel of one of the affected cars may not be able to turn off their cruise control. The automaker is urging owners to refrain from using cruise control in their vehicles until the cars are fixed.
The recall affects 15 Jeep, Chrysler, Dodge, and Ram models from 2014 to 2019. Some of the vehicles in the recall include the Chrysler 200, Chrysler 300, Dodge Challenger, Dodge Charger, Jeep Cherokee, Jeep Wrangler, Ram 1500, and Ram 2500.
According to FCA, if cruise control is engaged and accelerates on its own (which the system does to help the car maintain its speed over varying road grades) at the same time an electrical short-circuit happens, it could stop drivers from being able to turn off cruise control.
The automaker claims that the brakes are powerful enough to overpower the engine, which makes it possible to bring the vehicle to a stop. FCA states that the cars can also be stopped by shifting into neutral and braking accordingly. Once the vehicle comes to a complete stop, shifting it into park officially cancels cruise control.
FCA is not aware of any injuries or accidents that have been caused by the issue. The fix for the affected vehicles is a software update that'll be completed at no charge. The automaker will begin reaching out to customers with affected vehicles next week to schedule service appointments.
For more information, owners can contact the FCA US Recall Information Center at 800-220-6747. A list of affected vehicles is below:
2015 to 2017 Chrysler 200 sedan
2014 to 2018 Chrysler 300 sedan
2017 to 2018 Chrysler Pacifica minivan
2015 to 2018 Dodge Challenger coupe
2014 to 2018 Dodge Charger sedan
2014 to 2018 Dodge Journey CUV
2014 to 2018 Dodge Durango SUV
2014 to 2018 Jeep Cherokee SUV
2014 to 2018 Jeep Grand Cherokee SUV
2018 Jeep Wrangler
2014 to 2019 Ram 1500 pickup
2014 to 2018 Ram 2500 pickup
2014 to 2018 Ram 3500 pickup
2014 to 2018 Ram 3500 cab chassis
2014 to 2018 Ram 4500/5500 cab chassis