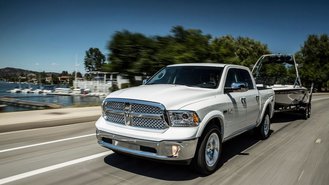 An issue with Ram pickup trucks could lead to the tailgate opening when the vehicle is moving. Fiat Chrysler Automobiles is recalling about 1.1 million affected pickup trucks in the US in hopes of fixing the problem.
The recall affects specific 2015 to 2017 model year Ram 1500, 2500, and 3500 pickup trucks. The automaker plans on fixing the power-locking mechanisms on the affected trucks. The problem lies with the tailgate actuator limiter tabs, which can break, causing the tailgate to unlatch.
The recall doesn't affect pickups with manual tailgates. Also, the Ram vehicles with 8-foot cargo beds aren't included. Only trucks with the 5-foot-7-inch beds or 6-foot-4-inch beds are being recalled.
Chrysler dealerships will fix the locking mechanism by upgrading the part. The fix will limit the travel of the tailgate looking actuator, blocking the pilot arms from traveling too far, which will help stop pulling on the locking rods in the tailgate, preventing the tabs from breaking.
According to the automaker, it's not aware of any injuries or accidents related to the affected faulty tailgates. Also, the recall doesn't affect the new and redesigned 2019 Ram models. That vehicle received a different power-looking mechanism.
The recall encompasses 260,000 trucks in Canada, 19,400 in Mexico, and 25,361 trucks outside North America. The recall is expected to start Sept. 14.