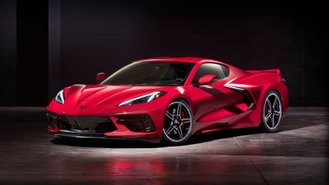 It's been a long and arduous journey for General Motors, but it's finally happened: the first 2020 Chevrolet Corvette rolled off the automaker's assembly line in Bowling Green, Kentucky. For decades, Chevrolet considered the idea of taking the Corvette down the mid-engine route, but it finally happened last summer. And now, with production underway, it's finally all real.
The first C8 Corvette ever built was a black-on-black model with the range-topping 3LT package. The package mixes niceties like heated and ventilated seats and a 14-speaker Bose audio system with performance features, including a head-up display and GM's Performance Data Recorder. NASCAR team owner Rick Hendrick snagged VIN 001 for the hefty sum of $3 million at Barrett-Jackson Scottsdale.
According to a report by the Detroit Free Press, Hendrick has no interest in driving the vehicle. Instead, he plans to keep the first-ever C8 Corvette in a warehouse with his private collection that is home to his other 210 vehicles. Of those, 120 are Corvettes.
While Hendrick will surely be happy to get his hands on the first C8 Corvette built, there's good news for other consumers waiting for their sports cars. Chevrolet believes the first shipments should make it to dealers before the end of this month or at the beginning of next month at the latest.
So, it's mostly all good news for the Corvette. Except there's one hiccup now. Corvette Blogger reports that the 5VM Visible Carbon Fiber Splitter and Side Skirts are no longer available for the 2020 model year. The optional extras, which cost $4,850, are being cut out of customer orders because of issues with suppliers. The outlet points toward two possible issues: quality control and suppliers having trouble keeping with demand.
Chevrolet had a difficult time bringing the C8 Corvette to market. The UAW strike caused a delay in the sports car's launch, as the automaker had to scramble to finish manufacturing the C7 Corvette before retooling its plant to manufacture the all-new C8. With the strike lasting 40 days, Chevy delayed production of the C8 Corvette to February when it originally planned to get customers cars before the end of 2019. Making matters even worse, Chevy reportedly cut production of the 2020 model by 20% because it can't keep up with demand. Saying things have been tough for Chevy and the C8 Corvette would be an understatement.