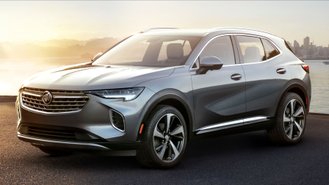 Buick introduced an all-new Envision for the 2021 model year. While the SUV was officially unveiled this summer, we're still missing information on what kind of fuel economy the compact SUV will get. Now, the EPA has released its official numbers for one of the Envision's configurations and it's a modest improvement over last year.
With the turbocharged 2.0-liter four-cylinder engine, nine-speed automatic transmission, and all-wheel drive, the Envision is rated at up to 22 mpg in the city, 29 mpg on the highway, and 25 mpg combined. The EPA has not released fuel economy figures for the front-wheel-drive Envision yet.
Still, even without numbers for the FWD model, the Envision matches the most efficient Envision from last year. So, when the EPA finally gets to test the FWD version of the SUV, we're sure the Envision will surpass last year's model when it comes to efficiency.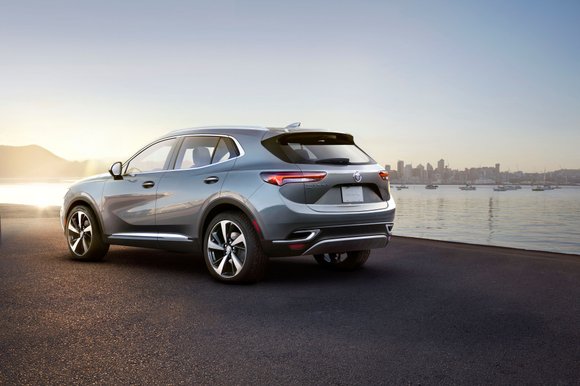 Unfortunately, while we know that the AWD version of the Envision can get up to 25 mpg combined, we don't know what kind of performance the compact SUV will have. All Buick will say about the 2021 Envision is that it will come with a turbocharged 2.0-liter four-cylinder engine. Last year's most efficient Envision came with a 2.5-liter four-cylinder engine and FWD. The 2020 model year was also available with a 2.0-liter turbo four-cylinder engine, a nine-speed automatic transmission, and AWD, which had a rating of 22 mpg.
GM Authority claims that the 2021 Envision's turbocharged 2.0-liter engine is rated at 237 horsepower and 258 pound-feet of torque. If true, that would make the engine less powerful than last year's turbocharged 2.0-liter engine, but more powerful than the standard 197-hp 2.5-liter four-cylinder. That could explain why the all-new Envision is more efficient than last year's model despite having a similar powertrain.
Still, the 2021 Envision's fuel economy figures are impressive, nearly matching the subcompact Encore that's rated at up to 26 mpg combined when equipped with AWD and the available turbocharged 1.4-liter engine. Seeing larger vehicles get fuel economy that compares competitively to smaller vehicles isn't as unusual as it once was. Automakers are offering larger vehicles with smaller, turbocharged engines, and clever transmissions with numerous gears, helping them be more efficient than ever.