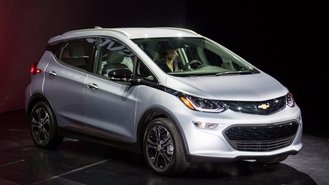 The Bolt EV is the most hotly anticipated upcoming Chevy this side of the rumored mid-engine Corvette. Unfortunately, a veil of mystery has covered this 238-mile EV's arrival to dealerships as Chevy has yet to confirm exactly when it will arrive and how it will distribute the initial allotments. A new report from HybridCars.com claims to have some answers in this department.
According to the report, which comes from conversations with various Chevy dealers, the Bolt EV is slated to arrive on the west coast first. Although the car will eventually be sold in all 50 states, the dealers claim that Oregon and California will be the first to get their hands on it. Other states will come at a later date – but no word has been given on when that will happen.
According to Keyes Chevrolet's General Manager, his dealership will get 78 Bolt EVs in its first allotment and deposits have already been given for the first 35 cars.
Keyes hopes to have its cars in showrooms by the end of the year, but isn't getting too far ahead of itself as its management team recalls the Volt sitting idle for 10 weeks while GM made sure it was ready for sale.
A Silicon Valley dealership also confirmed that its Bolts are coming, but there were no other specifics given. We'll continue monitoring the arrival of the 2017 Chevrolet Bolt EV and bring you updates as they become available.
For those who just can't wait for the Bolt EV to arrive, you can opt for the 2017 Chevy Volt, has amazing deals this month. For example, there is a 39-month lease available in California and Oregon that runs $261 per month with $0 due at signing. For buyers outside of those states, there is a 39-month deal that costs $299 per month with $1,569 due at signing.
For buyers who must have an EV, Chevrolet just cut its lease price on the 2016 Spark EV. As one of the best electric car lease deals in the country, this tiny EV runs just $111 for 39 months with $0 due at signing.