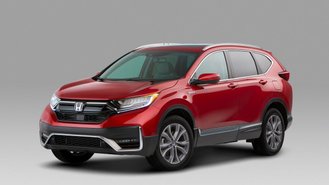 More automakers are stuffing hybrid powertrains into compact SUVs and crossovers and Honda wants in on the party. Two years ago, Honda unveiled the CR-V Hybrid Prototype, which we all thought would make its way to the U.S. But that never happened. Now, for the 2020 model year, Honda is finally ready to bring its first electrified SUV to America in the form of the CR-V Hybrid.

The CR-V Hybrid joins the Accord Hybrid, Insight, and Clarity as the fourth electrified model in the automaker's lineup. The hybrid powertrain in the crossover shares a similar setup to the one found in the Accord Hybrid, as it's compromised of a 2.0-liter inline-four and two electric motors. Unlike Honda's other hybrids, the CR-V Hybrid comes with all-wheel drive – a first for the automaker's two-motor hybrid system in the U.S. Combined output is rated at 212 horsepower – up from 190 hp in the regular CR-V.

Official fuel economy figures aren't available yet, but Honda claims the hybrid powertrain should see a 50% increase in the city fuel economy rating of the regular CR-V. The most efficient CR-V can get up to 28 mpg city. A 50% improvement would see the CR-V Hybrid get a 44 mpg city rating. As a reference point, the Accord Hybrid is rated to at up to 48 mpg city.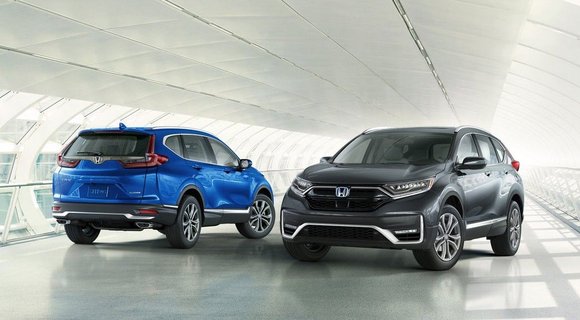 The CR-V Hybrid won't exactly stick out compared to the regular CR-V lineup. CR-V Hybrids get unique badges, a blue Honda logo in the grille, different fog lights, a hidden tailpipe design, and a unique bumper design. Some minor changes have been made to the inside where the hybrid has a special digital gauge cluster, a push-button shifter, and switches for Econ, Sport, and EV modes. The latter allows the CR-V Hybrid to run on electricity when it has enough of a charge. Deceleration selector paddles are located directly behind the steering wheel and allow the driver to increase the amount of regenerative braking under deceleration.

Honda didn't say anything about pricing, but we wouldn't be surprised to see a similar pricing format as the Accord Hybrid, which commands a $1,600 increase in pricing (for the 2019 model year) over the regular Accord.

The CR-V Hybrid isn't alone in the hybrid crossover realm. There's the Toyota RAV4 Hybrid, Nissan Rogue Hybrid, Lexus NX300h, Lexus RX 450h, Toyota Highlander Hybrid, and Acura MDX Sport Hybrid. Out of that bunch, the RAV4 Hybrid is the most efficient with a combined rating of 40 mpg combined (41 mpg city).