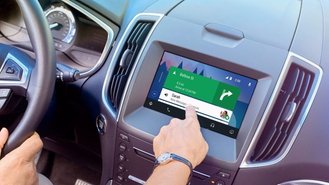 It can be hard to know when to jump in and buy a new car so you won't have outdated technology the next day. But Ford is the latest company to offer owners the option of keeping their car's technology current.
The automaker announced last week it would offer Apple CarPlay and Android Auto as an update to owners of 2016 Fords with the Sync 3 infotainment system. Both smartphone connectivity systems became available on 2017 Fords with the latest version of Sync 3 software.
Owners have a number of ways to install the system. While they can visit a Ford dealership and have a technician perform the software update, they can also download the update at home onto a USB drive and plug it into their vehicle.
Or, if their Ford is Wi-Fi enabled, the update can be downloaded directly to the car over the air. Tesla has popularized such over-the-air updates, but other companies such as Volvo with internet-enabled vehicles are offering this as a way to constantly update infotainment software without sending people to service departments.
Software updates through Wi-Fi are set to become more prevalent with more connected cars for sale and increased efforts to improve infotainment systems. But Ford, at least, isn't forgetting last year's models.