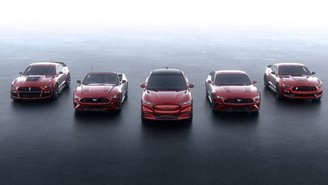 Automakers are introducing programs to help consumers that have been affected by the coronavirus. Ford has now entered its hat into the ring, as the automaker's lending company, Ford Credit, will now offer consumers with some relief from the coronavirus.
While Ford's gesture will surely be appreciated by consumers, it's a little ambiguous. All the automaker has said, is that it will provide Ford Credit customers that have purchased or are currently leasing one of its vehicles that have been affected by the coronavirus with some relief. Ford is encouraging consumers to "contact Ford Credit to discuss options if they are having payment difficulty." There's nothing concrete in the press release, but Ford states that delaying payments and changing payment due dates are possibilities.
If you meet the requirements, Ford wants you to access your Account Manager profile, which can be done either online at accountmanager.ford.com or through the automaker's FordPass app. You can also get in touch with Ford Credit's support team at http://www.fordcreditsupport.com/ or call the company's special hotline at 1-800-723-4016.
For buyers that are interested in purchasing a new Ford, things are more obvious. The automaker will delay your first car payment for 90 days. Ford didn't specify what vehicles are eligible for the offer, so we're going to say that all of its models can be bought with the deferred payment plan as long as it's a new model.
Additionally, the Ford Motor Company Fund will also provide assistance to nonprofit groups in southeast Michigan by parceling out approximately $500,000. The funds will go toward delivering food to senior citizens and children that do not have access to meals because of school closures.
Ford joins Hyundai and Genesis as automakers that have programs to help consumers that have been affected by the coronavirus. Unlike Ford, the two South Korean automakers will be making up to six months of car payments for consumers who have lost their jobs because of the virus for those who purchased or entered a lease between March 14 and April 30, 2020.
Ford has offered a payment relief program before, but it's been a while. Back in the 2008 to 2009 recession, Ford offered the Ford Advantage Plan. For consumers who lost their job, the plan offered a year of payment protection at a rate of up to $700 per month. Consumers were automatically eligible for the program as long as they purchased a new Lincoln, Mercury, or Ford by June 1, 2009.