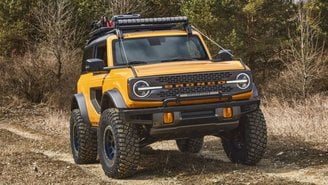 Ford made waves when it introduced the all-new Bronco earlier this year. Consumers have been waiting for the automaker to revive the nameplate for decades and the new Bronco certainly looks like an excellent, modern take on the old model. If there's one thing consumers are left wanting for with the SUV, it's a V8 engine. Unfortunately, it doesn't sound like that's ever going to happen.
Accord to Muscle Cars & Trucks, who spoke with Ford Global Program Manager Jeff Seaman and Bronco Chief Engineer Eric Loefller, a V8 engine isn't going to be a possibility for the Bronco because of emissions regulations.
"We have to manage the CO2 implications of the production. The way the federal requirements are now it's all shadow area (footprint) based. If you look at the shadow area of a small off-road vehicle, it has a pretty high target from government perspective in terms of CO2," said Loefller.
Based on that comment, it doesn't sound like Ford has any plans, now or for the future, to offer a V8 engine in the Bronco. But it's not solely because of emissions. Loefller also believes that Ford's optional turbocharged V6 engine meets customer demands in regard to "overall hp, torque, capability and fuel economy figures."
"If the customer experience was significantly enhanced with a Coyote engine, it would have been under serious consideration," said Seaman.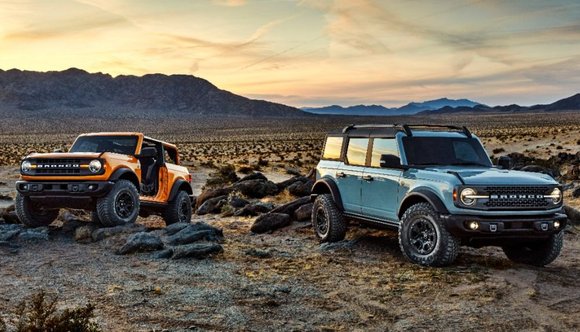 While the old Bronco utilized a V8 engine, the new one comes with two turbocharged engines – the base engine being a 2.3-liter turbo four-cylinder and a twin-turbocharged 2.7-liter V6 being optional. The four-cylinder engine is rated at 270 horsepower and 310 pound-feet of torque, while the available V6 produces 310 hp and 400 lb-ft of torque. The V6 compares well to the 5.0-liter V8 engine that produces 395 hp and 400 lb-ft of torque in the F-150.
Additionally, Ford has been using turbocharged V6 engines in its high-performance for a few years now as a way to move away from V8s. Besides the Mustang, the GT supercar and F-150 Raptor both come with a turbocharged 3.5-liter V6 engine. There was some backlash when Ford decided to put V6 engines into those two high-performance vehicles, but it's a sign of the times we live in with regulations. If anything, if Ford wanted to offer a performance engine in the Bronco it would be a more powerful turbocharged V6 engine.
We don't see the decision to not offer a V8 engine in the Bronco hurting the competitiveness or the SUV's overall appeal. When it comes to capable off-roaders, only luxury options like the Mercedes-Benz G-Class, Land Rover Range Rover, and Toyota Land Cruiser come with V8s. The Jeep Wrangler and Toyota 4Runner both use V6 engines.
Jeep recently came out with a concept that featured a 6.4-liter Hemi V8 engine that's rated at 450 hp and 450 lb-ft of torque. While it's not a sure thing yet, the concept did look close to being ready for production and follows FCA's strategy of putting high-output V8s in nearly every vehicle it offers. The V8, though, is sure to drive the Wrangler's price up and you can kiss fuel economy, which isn't one of the Wrangler's strengths, goodbye. As long as Ford has an answer for the V8-powered Wrangler, even if it's a more powerful turbocharged V6 engine, we don't think customers will mind. And if they do, we're sure an aftermarket company will have a solution for consumers with deep pockets.