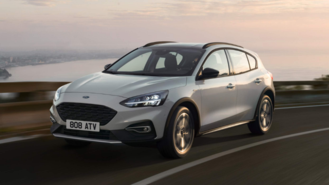 At the end of last week, Ford officially announced that it would be canceling plans to import the Focus Active (a taller, crossover-like variant of the Focus with rugged styling cues) to the United States in 2019, citing the Trump administration's tariffs as the reason for the decision. According to Automotive News, the tariffs enacted by the current administration would cut into profits too deeply.
Ford originally planned to import the Focus Active from China as a replacement for the sedan and hatchback variants of the compact car, which went out of production earlier this May. The Focus – along with the Fiesta, Fusion, and Taurus – is just one of four cars that won't be replaced in the US, as the American automaker looks to move toward a SUV- and crossover-heavy lineup.
"The impact to our future sales is expected to be marginal," said Kumar Galhotra, Ford's president of North America on a conference call with media outlets, which included Automotive News. "Our viewpoint is that, given the tariffs, our costs would be substantially higher. Our resources could be better deployed at this stage."
With the announcement that the Focus Active, which was supposed to arrive in April of 2019, won't make its way to America, the Mustang is the only car to survive the mass exodus of cars. Ford, though, will still import vehicles from other countries, like the EcoSport that's built in India and the Transit Connect van that's manufactured in Spain, according to Automotive News.
Ford isn't the only automaker that's had to alter its plans because of the Trump administration's proposed import tariffs. Recently, General Motors asked the government for the Chinese-built Buick Envision to be exempt from the tariffs. If GM doesn't receive an exception, there's a good chance that vehicle won't be sold in the US.