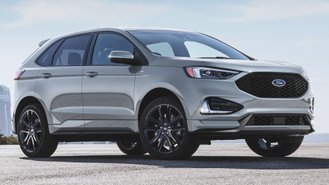 Ford's decision to go all-in on SUVs and crossovers could result in one of its staple options being on the chopping block because of redundancy. According to The Detroit News, citing automotive forecaster Sam Fiorani at AutoForecast Solutions LLCs, the Ford Edge may not return for another generation once the current model gets to 2023. Instead of introducing a third generation of the SUV, the outlet claims that Ford could scrap the vehicle.
"We got word that Ford had canceled the program for the next-generation Edge," Fiorani told the outlet.
We're a little skeptical about the report, because the Edge is a popular model in the two-row, midsize SUV segment. In 2019, Ford sold 138,514 units of the Edge, which is more than the Hyundai Santa Fe (127,373 units), Dodge Durango (67,598 units), and Nissan Murano (68,361 units). The Jeep Grand Cherokee was one of the few midsize SUVs that actually outsold the Edge, as that model accounted for 242,969 units sold. The outlet claims that Ford has sold 1.6 million Edge SUVs in the U.S. since the model came out in 2006, showing just how popular it's been.
The Edge may be popular now, but Fiorani doesn't see the popularity lasting when Ford introduces new products in the next few years, more specifically with the launch of the Bronco Sport. "Their lineup seems to be very CUV and SUV-heavy and it just seemed like there was a lot of overlap within the models," he said. From what we know about the upcoming Bronco Sport, that SUV is supposed to share a platform with the compact Escape. Beyond being similarly sized to the compact Escape, the Bronco Sport is supposed to be a rugged, off-roading SUV. That goes against the Edge, which is a midsize option with performance-oriented powertrains. Those sound like two very different things that would attract different consumers. Still, Fiorani believes that getting rid of the Edge could allow Ford to give the automaker the ability to add market share by adding new nameplates instead of doing so with a legacy name.
If Ford were to put the Edge out of production, it would leave the Oakville Assembly plant in Ontario out to dry. The plant has been used since 1953 and is the location of assembly for the Edge. The Oakville plant was in charge of building the Ford Flex and Lincoln MKT before those vehicles went out of production. Currently, the Edge and the Lincoln Nautilus are the only two SUVs built at the plant, but the Nautilus is set to be phased out in the future, leaving the Edge as the only remaining vehicle. Currently, the plant has 4,200 workers.