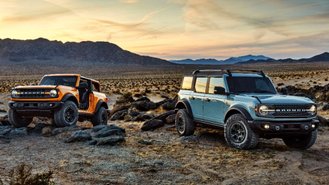 When Ford unveiled the all-new Bronco, it was mostly met with praise. The American automaker finally resurrected the old nameplate in an SUV that's meant to take the Jeep Wrangler on head-to-head. There was one thing, though, that enthusiasts took objection with. The available Sasquatch off-road package was only available with a 10-speed automatic transmission. Enthusiasts took to the Internet to complain, requesting, demanding, and pleading for Ford to offer the Sasquatch package with a manual transmission. In an incredibly unexpected decision, Ford announced that it would offer the Sasquatch package with a manual gearbox.
In an announcement, Ford claims that it listened to "reservation-holder feedback," but we think all of the tweets played a large role in the decision, too, that it would expand the availability of the Sasquatch off-road package to include the seven-speed manual transmission.
As a refresher, the Sasquatch package brings 35-inch Goodyear mud-terrain tires, 17-inch beadlock-capable wheels, Bilstein shocks, Dana front- and rear-locking axles, a 1.2-inch lift, wider fender flares, and a two-inch wider track. Additionally, Broncos with the Sasquatch package and the manual transmission come with a max crawl ratio of 94.75:1.
"The Bronco community spoke and we heard them," said Mark Grueber, Ford Bronco consumer marketing manager. "Our team moved quickly to add Sasquatch with a manual transmission – another example of our focus on giving customers the best possible off-road vehicles and accessories that we can."
The Sasquatch package is available throughout the entire Bronco lineup, including the Base, Big Bend, Black Diamond, Outer Banks, and Badlands. The package is standard on the Wildtrak and First Edition models. Jeep's equivalent to the Sasquatch is the Wrangler Rubicon. Unlike with the Wrangler, Bronco shoppers can tack the package onto the base trim to get an incredibly capable off-roader without breaking the bank or getting features you don't want. Jeep doesn't offer a high-performance package throughout the Wrangler lineup, but saves the serious off-roading equipment for its Rubicon model. The Wrangler Rubicon is available with a six-speed manual transmission.
Offering a manual transmission option on the Bronco with the Sasquatch package may seem like a small thing, but for enthusiasts, it makes a world of difference. SUVs like the Wrangler and Bronco are some of the last driver-oriented SUVs on the market. Consumers that buy the Wrangler actually take them off-roading and want to feel that connection. That's sure to be the case with the Bronco. Passenger vehicles are all about getting from point A to point B, while enthusiast vehicles, like the Bronco, are more about enjoying the journey. With manual transmissions disappearing from passenger cars, it's nice to see Ford listen to feedback to expand the availability of a manual transmission.