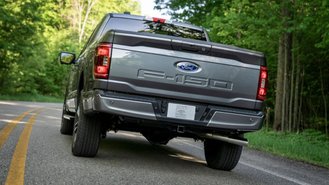 General Motors threw down the gauntlet when it announced its fancy MultiPro tailgate on the GMC Sierra 1500. Ram then answered the call with its barn-door styled tailgate on the Ram 1500. At the moment, Ford doesn't have an answer in the fancy tailgate wars, but that won't be the case forever. Ford is reportedly working on a multi-function tailgate to rival its competitors.
Ford Authority, citing unnamed sources, claims that Ford is currently working on a multi-function tailgate by using the ones offered on the Sierra 1500 and the Ram 1500 as benchmarks. The automaker reportedly has several prototypes that it's working on. One of the designs includes a barn-door like tailgate with three vertical sections. The three different sections would be able to open individually, splitting the tailgate into thirds, left to right, vice versa, or folding down.
The unnamed sources told the outlet that Ford is using special techniques, like packing foam and plywood, to develop the new multi-function tailgate as quickly as possible. The outlet claims that packing foam was used to develop the concept behind the 2021 Ford Bronco.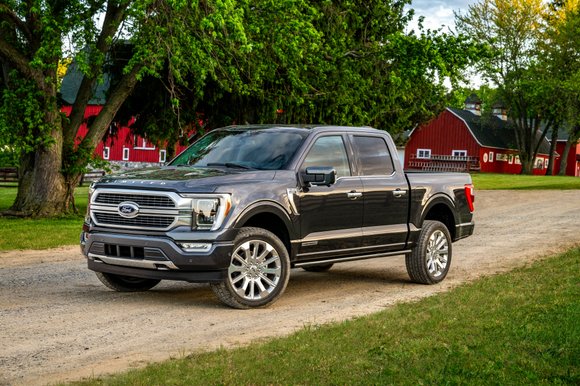 While Ford Authority doesn't have an exact timeline for when we could see the new multi-function tailgate, it believes that it could be available as an option on the new F-150. Since Ford didn't say anything about a multi-function tailgate on the upcoming 2021 F-150, we think it would be an option that's introduced a few years into the model year's lifespan.
It seems like an odd decision for Ford not to include a multi-function tailgate on the 2021 F-150. It's not like GM and Ram surprised Ford by introducing multi-function tailgates on their respective pickups, so there's really no reason for falling this behind in a segment that it's led for decades. Instead, Ford is now the only automaker out of the Big Three that doesn't have a multi-function tailgate on its pickup.
Earlier this month, we heard that the Chevrolet Silverado 1500 would be getting a unique version of GM's six-way MultiPro tailgate. That shows us that there's a market for multi-function tailgates, as they offer far more versatility than a traditional one. GMC only offers its MultiPro tailgate on the SLT, AT4, and Denali trims, so we can't say if it's an expensive option. But if you want the option on your GMC, you're certainly going to have to pay for it. Ram takes a different approach to its multi-function tailgate by offering it as a $995 option throughout the entire lineup.
Instead of offering a multi-function tailgate, Ford chose to improve on the regular tailgate found on the 2021 F-150. The tailgate comes with extra tie-down cleats that can also open bottles, while an available Tailgate Work Surface includes a pencil holder, integrated ruler markings, and recesses for C-clamps.