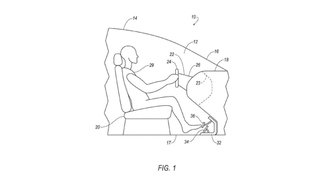 Autonomous cars are seemingly right around the corner, and they're bringing loads of new technology along with them. Depending on the level of autonomy, self-driving cars won't need steering wheels or pedals, crazy right? Ford doesn't think it's that farfetched of an idea, as the automaker, according to Motor1, recently came out with a new patent for a driverless car with a removable steering wheel and pedals.
As Motor1 reports, the automaker believes the patented system allows it to have a "steering wheel for development purposes, and enables the easy provision of a steering wheel as a customer-requested option."
The system is expected to work in a similar fashion to the way racing steering wheels work. The vehicle's cabin has recesses with locking points for the steering wheel and pedals, which will be replaced with trim pieces when the items are not needed, hiding the connecting points.
While one would assume that driver safety would be of concern, as steering wheels house an airbag for the driver, Ford has incorporated an additional airbag in the dashboard. A sensor is in place to detect whether the steering wheel is attached to the dashboard and, based on its findings, will deploy the correct safety device.
Physically attaching the steering wheel to the hard points isn't a difficult thing to do, but getting the steering wheel to actually turn the wheels is something that Ford is still working on. Motor1 reports that the steering wheel will be physically connected to the road through a splined shaft, with steer-by-wire technology – like Infiniti's Dynamic Adaptive Steering – as an available option.
The situation is the same for the removable pedals. According to Motor1, Ford's patent describes using fasteners and a spring-loaded snap engagement as mounting points for the pedals, but going electric is also a possibility.
Motor1 reports that Ford filed the patent with the US Patent and Trademark Office earlier this year, although Uncle Sam only published it on August 10.