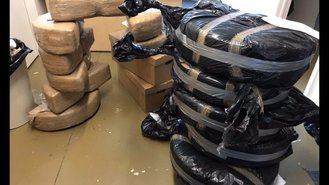 A modern Ford has a lot of stuff in it. There's wiring and metal and plastic and… marijuana? For the second time in less than a month, Ford employees have found some dank, dank weed smuggled into the US using vehicles built in Mexico.
A total of 277 pounds of Mexican kush was found in a railroad car that was used to transport 200 Ford and Lincoln products built south of the Rio Grande, The Detroit Free Press reports. The pot has a street value of $1 million and made it all the way to the Ford Rail Distribution Facility in Woodhaven, MI, before employees stumbled on it.
But this is a small haul relative to what dealership employees in Ohio found packaged inside of a new Ford Fusion's spare tire well earlier this month. A single package of marijuana led authorities to a rail yard that shipped 15 Fusions to Ohio and Pennsylvania. Over 400 pounds of Mary Jane was uncovered as part of that investigation.
Ford is, unsurprisingly, cooperating to the fullest, issuing a statement following this second discovery that it's "taking this very seriously."
"We are working closely with a number of law enforcement agencies on this investigation, including the FBI, Customs, Department of Homeland Security and local police," Ford said. "We cannot comment further as this is an active investigation."