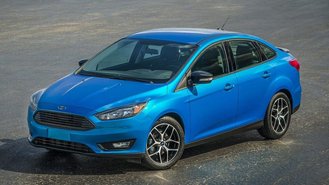 Ford shocked the industry when it announced that its small cars would be killed in favor of adding more crossovers and SUVs to its lineup. Under the plan, the current Ford Fiesta, Fusion, and Taurus wouldn't be replaced with new models for consumers in the United States. The Focus, as we know it, would be replaced with a crossover-like Focus Active, as well. And, according to The Car Connection, production for the Focus came to an end earlier this May.
Ford spokesperson Sam Schembari confirmed the Focus' death to the outlet earlier this week. Before the automaker officially closed the door on the current Focus, the brand built more models than it did last year. The outlet states that Ford built 23,604 units of the Focus in April of 2018, which is substantially more than last year when it built 15,712 units.
Citing data from Automotive News, the outlet points out that Ford has enough supply of the Focus to last 123 days. That, reportedly, is double the industry average of 66 days.
Schembari also told The Car Connection that the new Focus Active crossover will come out as a 2020 model year vehicle. When the Focus Active goes on sale in the US, it'll compete against vehicles like the Subaru Crosstrek and Mini Cooper Countryman.
As the outlet points out, this is a radical way to stop sales of the Focus, which is still relatively popular – Ford sold roughly 11,000 units of the compact vehicle in June.
Reports indicate that the Fusion moniker will also live on in the US, but in the form of a wagon to take on the Subaru Outback and Buick Regal TourX.