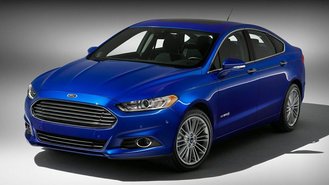 With competition heating up later this year, Ford is preparing for war with lower pricing on its bestselling hybrid and plug-in models.
More competitive footing

Order guides from Ford reveal sizable price cuts to the Fusion Hybrid and Fusion Energi for the 2016 model year. Both models will get price cuts equal to $900 across all trim levels.
The 2016 Fusion Hybrid S will start at $25,675 (down from $26,575, a 3.39% cut), excluding destination charge. The 2016 Fusion Energi SE Luxury will start at $33,900 (reduced from $34,800, a 2.59% drop). Gas model Fusions are excluded.
What's unusual about this
Price cuts are typically accompanied by changes in equipment. However, in this case, Ford is lowering prices without taking away key features.
In fact, the Fusion Hybrid is getting a new driving mode called EcoSelect. The feature triggers less intense heating and cooling, softer acceleration, and more regenerative braking.

Learn how price changes can impact the car you end up with>>

No stranger to cuts

This isn't the first time Ford has taken steps to improve the price points on their hybrid and plug-in cars. Last September, the automaker quietly slashed C-Max Hybrid and C-Max Energi prices by up to $1,200 within the same model year.
An important nuance with price cuts is whether or not automakers choose to shrink rebates at the same time. In the case of the C-Max changes last year, we didn't see a major shift in sales programs. We expect Ford will likely continue to keep incentives strong in a similar manner on the Fusion Hybrid and Fusion Energi.
See pricing and incentives for the 2015 Ford Fusion Hybrid>>
Long-term outlook
A number of important changes are coming. Ford is showing they want to gain momentum sooner rather than later with a more appealing price point for shoppers. But will it be enough?
A redesigned Toyota Prius is expected to start production later this year. The next Fusion refresh is not expected until late 2016... just in time for the delayed release of the new Toyota Prius Plug-in.
The 2016 Fusion Hybrid and Fusion Energi are expected to arrive in late 2015.

See a head-to-head comparison of the Ford Fusion Energi vs. Toyota Prius Plug-in>>

Interested in more pricing and deals insights? Check out our CarsDirect Pricing Insider page for monthly analyses on over 300 models. Sign up for email alerts to get the most recent insights delivered right to your inbox when they change each month.