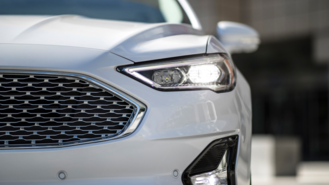 Although it's no secret that Ford plans to end production of most of its passenger cars by 2020, the final year for the Fusion hasn't been so clear. Production data shows the model will continue through at least the 2020 model year. Along with the Mustang, that will leave just 2 cars in the brand's lineup. The changes were confirmed yesterday by spokesperson Sam Schembari via email.
Ford's future plans for its cars have seen many changes. Plans to bring a lifted Focus to the U.S. called the Focus Active later this year were reportedly scuttled due to the implementation of stiff tariffs by the U.S. on Chinese imports, a move expected to increase vehicle prices. There have also been reports that Ford could continue to offer the Fusion in America as a wagon-like crossover.
So what does this mean for Ford shoppers looking to buy a passenger car? At the moment, there still appears to be a decent selection of models to choose from. Here's what we found.
According to listing site Cars.com, dealers still have around 10,000 Fiestas left in stock and around 8,300 Focuses, with up to $3,000 in incentives for the Fiesta and $4,000 for the Focus depending on region. Taurus discounts range from $3,500 to as much as $6,000 depending on model year, but the odds of finding one in stock are slim with less than 3,800 listings in total.
Fusion discounts remain quite aggressive in some parts of the country, particularly on the hybrid variant. Here in California, the 2019 Fusion Hybrid is actually cheaper to lease than the regular Fusion despite a nearly $3,000 difference in MSRP. Both are among the first Fords to come equipped with Co-Pilot360, a suite of features that includes automatic emergency braking, blind spot warning and more.