The coronavirus threw a huge wrench into automakers' production plans and forced them to postpone updates, as well as reveals, as American automakers had to shut plants down for two months. Ford and General Motors, though, according to a report by Wards Auto, haven't wasted any time ramping production up to pre-coronavirus numbers. The outlet claims the two American automakers will get back to normal within the new few weeks.
"We're still targeting to be at normal capacity end-of-June, or sooner if possible, but obviously it's a very fluid situation," said Dhivya Suryadevara, GM's chief financial officer, during the Deutsche Bank Global Auto Industry Conference.
While one would assume that it would be easy to get back up and running again, there are a few things that are holding automakers back. For one, automakers had to introduce new rules on social distancing, ensuring workers have enough room between one another on assembly lines, and schedules for regular cleanings. Those two things could affect production schedules.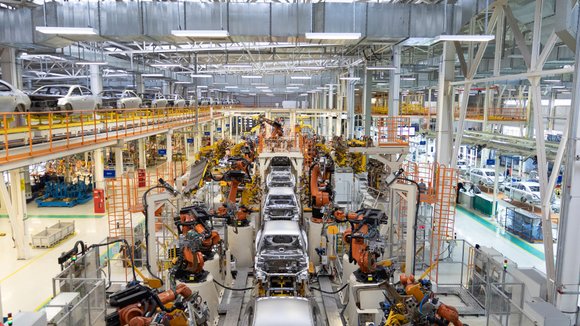 "We will be a much more normalized rate in June, and from there we will get much better at physical distancing and cleaning and reducing the gaps to the normal run rate as quickly as possible," said Suryadevara.
For Ford, they're reportedly a week behind General Motors, as Jim Farley, Ford chief operating officer, claimed that the automaker would be at pre-coronavirus production numbers by July 6.
Ensuring that its factories are running at full capacity is especially important for Ford, as the automaker is preparing to launch highly sought-after cars in the near future. The Ford Bronco, Bronco Sport, and redesigned F-150 are set to be unveiled and go into production soon. Having issues when those vehicles are introduced would greatly affect their popularity and be reminiscent of the troubles the automaker had when it launched the redesigned Explorer and Lincoln Aviator.
While it's taking longer than automakers would've hoped, it's reassuring to see production ramping up. Automakers are still offering great deals on new vehicles, though both GM and Ford have stopped offering 0% APR for 84 months on most models. With production returning to normal, shoppers will have an easier time finding popular vehicles that dealers seemingly ran out of during the pandemic.