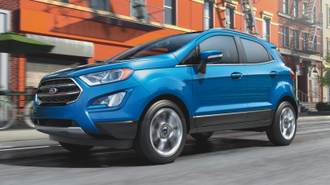 Ford is cutting the starting price for its most affordable SUV. According to a letter sent to dealers, pricing for the 2020 EcoSport S has been lowered to $19,995 before destination, a $490 price cut compared to the previous MSRP of $20,485. With a $1,095 destination charge, the model now starts at $21,090.
According to Ford, the change took effect Wednesday and is the result of a "competitive pricing action" that only affects the entry-level S trim. As a result, the sticker price for the 2020 EcoSport will match that of the 2019 model, a quirk we rarely see when examining year-over-year changes in price.
The new price tag will enable Ford to better target shoppers searching for a vehicle under $20,000. The change may also help the EcoSport combat a growing field of upstarts like the 2020 Hyundai Venue ($17,250 before destination) and the upcoming 2021 Chevy TrailBlazer ($19,000).
But is the EcoSport really a good value? As we've noted one year after another, the EcoSport lacks the ability to add the latest safety features like automatic emergency braking on any trim for any price. Meanwhile, vehicles like the Venue and Nissan Kicks cost less and come with AEB standard.
Having said all that, manufacturer sales incentives can make sticker prices somewhat meaningless. For example, the 2019 EcoSport is priced similarly to the Honda HR-V but is eligible for as much as $4,850 in rebates right now. As a result, the most affordable SUV may not always be what you think.