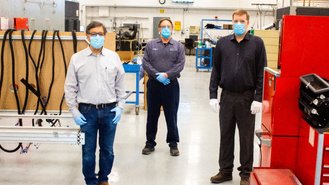 Ford is now helping dealers pay for personal protective equipment, or PPE, according to a letter sent to dealers yesterday. Even as an increasing number of dealers go almost 100% digital to help consumers amidst the coronavirus pandemic, the move could support safer interactions when in-person contact can't be avoided.
Effective immediately, Ford is subsidizing the cost of PPE through its Co-op Advertising Program, which has traditionally been used to help pay for things like online advertising. In addition, Ford is helping to cover the costs associated with remote pickup & delivery services in order to support social distancing efforts.
To help assure car buyers, many dealers have been offering vehicle sanitization and options for buying with limited contact. Now that federal guidelines have deemed car sales to be an essential service, more and more dealers are likely looking at ways to help keep both their employees and customers safe.
Ford's responses to COVID-19 have been wide-ranging. For example, existing customers are being offered flexible payments, while new car shoppers are being offered 0% APR for up to 84 months. Meanwhile, other brands have been offering unprecedented deals as well as discounts for healthcare workers.