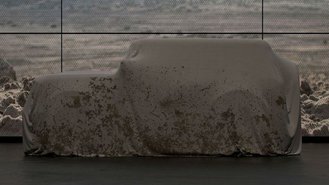 The Ford Bronco and its little sibling, aptly named "Baby Bronco" are everything but a secret. The Dearborn-based automaker announced the Bronco more than two years ago, and while we're just now spying test mules in the wild, there's still a lot we don't know about either vehicle. However, a single tweet from Automotive News reporter Michael Martinez has opened the flood gates of speculation. Martinez tweeted Ford CEO Jim Hackett confirmed in an investor meeting a hybrid version of the Bronco is coming in the future.
Motor1 was quick to the story, breaking down Martinez's tweet. Autoblog followed up, seeking a comment from the automaker; however, Ford returned a canned response that neither confirmed nor denied Martinez's scoop. While the news is exciting, there is an apparent lack if specifics that has allowed speculation to run rampant.
Ford plans on making two versions of the Bronco—a full-size competitor to the Jeep Wrangler and the "Baby Bronco" based on the new Ford Escape. Martinez does not specify which Bronco version will receive a hybrid powertrain. Ford is planning quite the onslaught of hybrid vehicles. The all-new Ford Explorer, Ford Escape, Ford F-150, and Lincoln Aviator all have hybrid versions coming. In Ford's canned PR response to Autoblog, the company said, "We are on track to electrify our most popular vehicles."
The most likely candidate for hybridization is the Baby Bronco; however, if a hybrid version of the larger Bronco comes, it'll likely come the year after the gasoline-powered version goes on sale, which it's supposed to do sometime in 2020. A hybrid Baby Bronco makes sense considering it'll be based off the all-new Ford Escape, which already has a hybrid model confirmed.
Also, Ford is teeing up the bigger Bronco to compete directly against the Jeep Wrangler by offering removable doors and roof, live rear axle, and plenty of off-road prowess. A hybrid version may not make sense out of the gate. Then again, Jeep is planning a Wrangler plug-in model for 2020, so maybe this is Ford's competitive answer.