The all-electric Ford Mustang Mach-E is the automaker's attempt at playing catchup against brands like Chevrolet and Tesla. Using the iconic Mustang's name to draw buyers into the automaker's first real attempt at an electric vehicle, the Mustang Mach-E promises to be a sporty EV with a versatile SUV body. Unfortunately, the Mach-E faces competition from a variety of vehicles, including the recently-released Volkswagen ID.4 With competition in the electric segment starting to heat up, Ford decided it was best to cut the Mach-E's price before deliveries of the SUV began.
According to Green Car Reports, Ford confirmed that pricing for the Mach-E First Edition and Select trims would drop by $1,000, the Premium trim will go down by $3,000, and the California Route 1 is now $2,000 cheaper. Pricing for the GT trim won't change.
With the changes, pricing for the Mach-E, including destination, now starts at $43,995. Going with the Premium model with the Standard Range battery brings a price tag of $48,100, while the Extended Range battery costs $53,100. The California Route 1 carries a starting price of $50,900. The GT trim continues to be priced at $61,600. The outlet claims that pricing on the automaker's website already reflects the changes.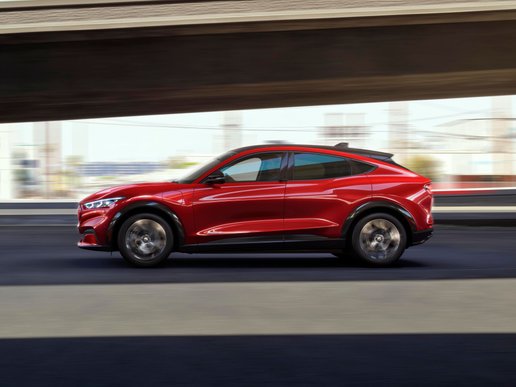 In a statement to CNET's Roadshow, Ford stated that the change in pricing is due to price changes in the electric segment. "Exceptional value has always been a hallmark of the Mustang brand," stated a statement the automaker gave to the outlet. "In addition to its great all-electric driving range and performance, we're adjusting Mustang Mach-E pricing to remain fully competitive in a segment that is seeing dynamic price changes."
"Dynamic price changes" is a bureaucratic way of saying more competition has appeared on the scene. The Mach-E's price change comes at an interesting time, following closely on the heels of the ID.4. VW's latest electric crossover is priced at $41,190 and has an estimated EPA range of 250 miles. Ford, obviously, saw how competitively priced VW's electric SUV was and decided a change needed to be made for its own Mach-E. Tesla also dropped the price of its Model Y to $51,190 earlier this July with a more affordable rear-wheel-drive model in the works.
Since Green Car Reports claims that prices have already changed on the site and deliveries haven't started, we're sure Ford will give reservation holders the more affordable price. Consumers with a reservation will certainly be happy to hear that pricing has gone down, as a price change before a vehicle officially goes on sale is rare.