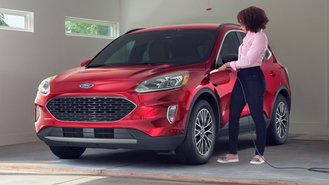 Update (9/30): Ford Promise will exclude new vehicles as of October 1. Read our full analysis for details.
Once sales started dropping because of the coronavirus, it didn't take long for automakers to introduce some of the best deals and assistance programs we've ever seen to get shoppers to purchase a new vehicle during the pandemic. With a few states seeing exponential rises in the number of COVID-19 cases in the U.S. and millions of Americans still out of jobs, Ford thought it was a good time as any to introduce its new Promise program.
Unlike other programs automakers are currently offering, Ford's Promise program, which is available until September 30, will allow new car buyers and lessees that finance through Ford Credit to return their vehicle a year after the purchase. The program goes into effect 30 days after the purchase or lease of a Ford. As one would expect, there are a few important details to keep in mind.
On 2019, 2020, and 2021 Fords (commercial vehicles don't apply), Ford Credit will value the customer's car using the National Automobile Dealers Association's (NADA) average trade-in value figure. That number will be deducted from the consumer's outstanding balance on the recently purchased vehicle.
Additionally, Ford Credit can waive up to an additional $15,000 off the outstanding balance. Anything beyond that, customers will be on the hook to pay. Customers are also responsible for any late or deferred payments, as well as damage that's been done to the vehicle.
Ford Promise has a few drawbacks that consumers should be aware of. For one, losing a job is unpredictable. So, if you happen to waltz into a Ford dealership and buy a shiny, new vehicle, and you lose your job within the first 30 days, you're out of luck.
Then, there's the issue of how much you'll actually end up paying if you choose to give your vehicle back to Ford. Depending on how much you spend on a new vehicle, you're at the mercy of NADA's trade-in value and Ford Credit to waive an additional $15,000. Since the language in Ford's press release is ambiguous, it doesn't sound like every consumer that gives their vehicle back to Ford will get the full $15,000 waived from the automaker.
So, if you buy a $40,000 F-150, and NADA values your truck at $20,000, you could still be on the hook for $5,000. And that's the best-case scenario with Ford Credit waiving the total $15,000. While that's a lot better than making payments on the truck, it's still a large amount for a consumer that just lost their job.
Ford Promise, then, is a nice safety net, but in no way is this is a reason to go out to purchase a brand-new vehicle. This should be used as a last case scenario or as another option if you happen to lose your job.
Other automakers have introduced programs since the start of the coronavirus. Hyundai has a Job Loss Protection Program that covers up to 6 months of payments for consumers that lose their jobs because of COVID-19 related cutbacks. Nissan is offering up to 2 months of payment relief. Both Lexus and Toyota are deferring lease payments or offering payment extensions for loan contracts. There's also the Volkswagen Pledge, which will give consumers up to $4,500 for job losses because of the pandemic.
Previously, Ford offered consumers its Lend a Hand program that gave eligible customers deferred payments for up to three months while the automaker paid an additional three months for up to six total months of deferred payments on a new car. Also, Ford Credit gave U.S. customers that were affected by COVID-19 a chance to call in to discuss options like payment deferrals for peace of mind.