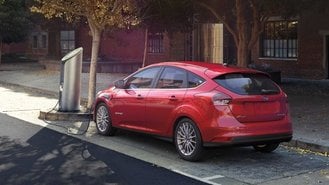 Automakers are notorious for quickly changing their minds, but this is a lot quicker than usual. Just a few days ago, we brought you a report that claimed Ford was perfectly content with sticking with a 100-mile version of its Focus Electric and wasn't looking to get into a range war with Chevy, Tesla and Nissan. Now, a new report from Detroit News claims that the blue oval is, indeed, working to hit that 200-mile mark.
This report stems from a statement made by Mark Fields, Ford's President and CEO, just a few days after the brand's head of electric vehicles said the brand is more focused on cost and reliability than range. Specifically, Fields said, "Our EVs come down to making sure we're the best or among the leaders in those areas." He then followed that up by saying, "When you look at some of the competition, clearly that's something we're developing for." On their own, neither statement really confirms the brand's 200-mile-range aspirations, but together, they seem to imply such ambitions.
This is honestly the only way that Ford can remain competitive in this segment—like the horsepower wars of the 1960s, the range war of today is all about that number. Chevy and Tesla already have their 200-mile vehicles in place with the Bolt EV and Model 3, respectively, while Nissan has promised a 200-mile Leaf by 2018. Without diving in head first and reaching for 200 miles, Ford's EV lineup will likely become about as relevant as the Mitsubishi i-MiEV is today.
For buyers who are in the market for a Ford EV today, there is the 2016 Focus Electric, and it has a strong lease deal that runs $169 per month for 36 months after an initial payment of $1,999. There are also massive incentives on this model, like $10,000 in customer cash for leasing and $3,450 in customer cash for financing. These deals make the 2016 Focus EV one of the best-priced EVs on the market.