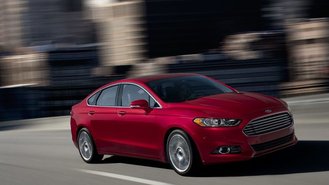 Ford issued a massive recall on July 18 affecting more than half a million Fusion and Escape vehicles. The two vehicles could suffer a potential rollaway risk. The recall affects select 2013 to 2016 Ford Fusion sedans and 2013 and 2014 Ford Escape crossovers. The recall affects 550,000 vehicles.
The issue revolves around a potentially faulty shifter cable busing, which could detach from the transmission. This could allow the transmission to be in a different gear than whatever gear the driver selected. For example, the driver could move the shift lever into park, remove the key from the ignition, and the vehicle may not actually be in park, according to the automaker.
If the driver doesn't apply the parking brake, the deteriorated cable bushing could allow the vehicle to move unintentionally, increasing the risk of injury or a crash. However, Ford said it's not aware of any injuries or accidents relating to the issue.
Ford will notify customers of affected vehicles. Until owners know of if their Ford Escape or Fusion is affected by the issue, owners should use their parking brake to guarantee the vehicle doesn't roll away. Dealerships will replace the affected bushing at no cost to the customer, according to Ford.