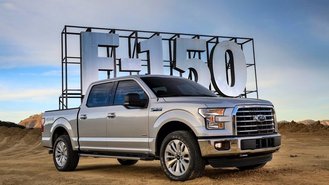 Ford announced a massive recall that affects approximately 1.3 million North American Ford F-150 and Super Duty models because of an issue that could allow the trucks' doors to open while the car is in motion. The recall will see the automaker install a water shield to side door latches and repair the door latch actuation cables – if needed – at no cost to consumers.
"In affected vehicles, a frozen door latch or a bent or kinked actuation cable may result in a door that that will not open or will not close condition," said the automaker. "Should a customer be able to open and close the door with these conditions, the door may appear closed, but the latch may not fully engage the door striker with the potential that the door could open while driving, increasing the risk of injury."
Ford claims that it's not aware of any injuries or accidents caused by the issue. According to Security Exchange Commission filings, the recall will cost the automaker $267 million.
The affected models include: 2015 to 2017 F-150 trucks built at the automaker's Dearborn Assembly Plant from March 12, 2014 to Dec. 31, 2016; 2015 to 2017 F-150 pickups constructed at the Kansas City Assembly Plant between Aug. 11, 2014 to Dec. 30, 2016; and 2017 Super Duty trucks built at Ford's Kentucky Assembly Plant from Oct. 8, 2015 to Sept. 1, 2016.
Approximately 1,344,605 trucks are affected in North America, with 1,101,107 of those vehicles being located in the United States. The automaker will reach out to owners that have an affected truck by letter, with the recall expected to begin on Nov. 13.
This isn't the first time Ford has had issues with its door latches, as the automaker paid $295 million in the first quarter of the year over two recalls that affected approximately 211,000 cars, including 2013 to 2014 Lincoln MKZs, 2013 to 2014 Fusions, and 2014 Fiestas.