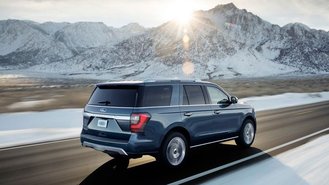 Ford announced a recall that affects roughly 7,500 F-150 pickups, Expedition SUVs and Lincoln Navigators from 2018. The affected vehicles are equipped with the automaker's 3.5-liter EcoBoost V6 engine. The recall involves high-pressure fuel pumps that may have misaligned welds.
Inadequate welds between the pump housing and the fuel pump assembly's mounting flange may result in high-cycle fatigue fractures that could cause the component to move. If repositioned, a seal could break and result in fuel leaks. This increases the risk of a fire.
Ford claims that 5,645 vehicles are located in the United States, while 1,625 are in Canada and the other 310 affected units are in Mexico. The affected F-150 trucks are from two plants – Dearborn and Kansas City. The pickups from Dearborn were built from March 14 to April 24, 2018, while the affected units from Kansas City were produced from March 20 to April 17, 2018. Expeditions that are a part of the recall were built at Ford's Kentucky Truck Plant between March 14 to April 12, 2018. Lincoln Navigators were manufactured from February 20 to May 6, 2018 at the Kentucky Truck Plant.
The 3.5-liter EcoBoost V6 engine is the only motor offered in the Expedition and Navigator and is one of the more popular engines for the F-150. Back in 2016, Ford claimed that the two EcoBoost options on the F-150 – the 2.7-liter and 3.5-liter engines – accounted for more than 60 percent of the pickup's sales figures.
Ford states that it's unaware of any accidents that have been caused by the recall. Dealers will replace the high-pressure fuel pump, high-pressure fuel discharge tube, as well as high-pressure pump and discharge tube mounting bolts for free. The brand didn't reveal a timeline for when it would be reaching out to owners, but consumers can see if their vehicle is involved in the recall by using the government's VIN lookup tool on safercar.gov.