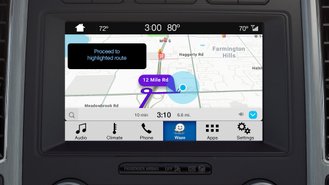 The Waze navigation app is finally coming to Apple devices that work with Ford's Sync 3 system. However, it doesn't work through Apple CarPlay. Instead, Waze works through Ford Sync AppLink.
"Our goal is to make it as easy as possible for people to access the smartphone features, apps, and services they care about most in the car, without having to pick up their device," said Don Butler, executive director, connected vehicle platform and product, Ford Motor Company. "With Waze, our customers get the benefits they're accustomed to with the added luxury of experiencing them on a bigger screen."
AppLink allows Apple users to Waze with voice commands when the users connect the iPhone to the car through the USB port. The app not only allows users navigation directions but also a host of other features such as current traffic and finding fuel prices.
Waze is also known for its community of users who can report heavy traffic, accidents, fuel prices, and police locations that are then shared with other app users instantly. This gives the app the ability to find the fastest route from one place to another.
Waze will work outside of Apple CarPlay for now. An update to Apple's iOS is coming later this year that will allow third-party navigation apps to work inside CarPlay, including Waze. Waze with AppLink works with Sync 3-equipped vehicles.