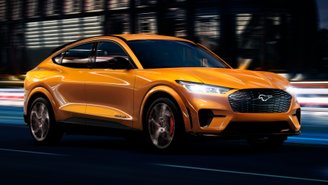 Ford allowed consumers to reserve a Mustang Mach-E shortly after unveiling the electric vehicle in November. Just nine days later, the automaker claimed that all First Edition units were accounted for. Ford never provided an official number on how many First Editions it was planning on building, but simply said that they were all gone. Well, there's some good news for consumers that missed out on one of the "sold out" trims, because Ford is reportedly reopening the reservation books for the First Edition.
According to Autoblog, consumers will be able to place a reservation for a Mustang Mach-E First Edition, despite the automaker's previous claims of the reservations being full. Instead of allowing consumers to go through its website to reserve a trim, the automaker will be utilizing popular social platforms.
As the outlet points out, a First Edition is available to reserve on Uncrate. With the click of a button, Uncrate allows consumers to reserve a Carbonized Gray First Edition with red brake calipers, brushed aluminum pedal covers, red accent stitching, and black perforated ActiveX upholstery for $59,900. The site claims the specification is only available through Uncrate and will be available in a limited, but unspecified, number.
The outlet states that Ford will also be partnering with Spotify and other unnamed platforms to offer consumers with more special First Edition models through the end of August. With Uncrate getting special Carbonized Gray First Editions, we're interested to see what other social media platforms get. While the First Editions may have different color schemes and features, they'll all come with a dual-motor setup with all-wheel drive that's rated at 346 horsepower and 428 pound-feet of torque. The electric SUV is expected to have a range of 270 miles.
Ford hasn't provided any official information on how many reservations it has for the Mustang Mach-E. It's interesting, because the automaker is more than happy to flaunt exactly how many consumers have reserved a new Bronco. It's odd and leads us to believe that Ford may not have received as much interest as they were expecting for the EV.
It's also peculiar to see Ford open the reservation books for the First Edition in this way. When the automaker ran out of available units of the Bronco First Edition trim, the automaker simply doubled the number of units it was planning to build. Those were available through the automaker's website, which is the only way consumers could reserve a model. The idea to go through social media outlets could be Ford's way of trying to appeal to younger consumers. Unfortunately, younger consumers on social media probably don't have the funds to pay $59,900 for an electric SUV, especially with COVID-19 still hanging around. And for those that do have the funds, they're probably looking to purchase a Tesla.
Either way, consumers that missed out on a Mustang Mach-E First Edition the first time it was available now have another opportunity to nab one. Even if it's through an unorthodox method.