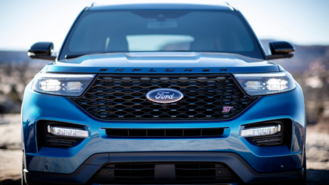 The all-new 2020 Ford Explorer was the Dearborn automaker's focus during the 2019 North American International Auto Show. Not only did Ford debut the new, rear-wheel-drive Explorer, but it also debuted a hybrid version and a performance ST version. The Explorer ST will replace the current-generation Explorer Sport.
Under the hood of the new Explorer ST is a twin-turbocharged 3.0-liter V6 engine producing 400 horsepower, which is more than the 365 horsepower found in the Explorer Sport. The Sport features a larger twin-turbocharged 3.5-liter V6. Ford made the engine smaller, but increased output, which is a win in our book.
Like the Explorer Sport, the new ST will feature all-wheel drive; however, with the new Explorer riding on an RWD platform, an RWD Explorer ST could be compelling. Ford claims the Explorer ST will reach 143 miles per hour. A 10-speed automatic gearbox is standard.
Ford will offer an ST Street or ST Track package, both of which add a host of upgraded goodies such as 21-inch-wheels, upgraded brakes, and red brake calipers. Just like the Edge ST, the Explorer ST will offer a Sport mode, which enhances the steering system for a sportier feel while also increasing throttle response. The transmission will hold gears longer and shift quicker as an enhanced engine note plays through the cabin.
During Ford's press conference, the automaker name-dropped Land Rover as a competitor the Explorer ST could beat. That's a bold claim. The Land Rover Range Rover Sport HSE packs a supercharged 3.0-liter V6 making just 380 horsepower. Another competitor could be the Dodge Durango SRT; however, the 6.4-liter under the hood produces more horsepower than the Explorer ST, pumping out 475 ponies, allowing Dodge to claim it has one of the world's fastest SUVs.
See more upcoming Ford vehicles