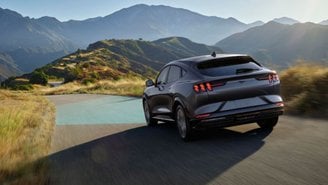 The Ford Mustang Mach-E is more than just the automaker's way of expanding the iconic Mustang nameplate, the all-electric crossover is acting as the tech-forward guinea pig, too. As such, the Mustang Mach-E will roll out with Ford Co-Pilot360 2.0, available Active Drive Assist, and a new Ford Co-Pilot360 Active 2.0 Prep Package. Here's what those mean and how they differ from what Ford currently offers on its non-electric vehicles.
Ford Co-Pilot360 should sound familiar, as it's a list of advanced safety features that are standard on nearly every model the automaker sells. The suite includes automatic emergency braking, pedestrian detection, blind spot monitoring, rear cross-traffic alert, lane-keeping assist, automatic high beams, and a rearview camera.
With the Mustang Mach-E, Ford has introduced Ford Co-Pilot360 2.0. The "2.0" aspect refers to a few enhancements that the automaker has made to the lane-keeping assist system, which include road edge detection and blind spot assist. The former sounds like lane departure warning, while the latter sounds like a combination of lane-keep assist and blind spot monitoring. Ford Co-Pilot360 2.0 will be standard on all Mustang Mach-E models.
Building off of Ford Co-Pilot360 2.0, there's Ford Co-Pilot360 Assist 2.0. The "Assist 2.0" system includes intelligent adaptive cruise control with stop and go, as well as traffic sign recognition. Previously, Ford's adaptive cruise control system didn't have stop and go capability. Now, at least with the system found on the Mustang Mach-E, the adaptive cruise control system can resume driving if the vehicle remains at a standstill for up to 30 seconds. The upgraded suite also includes intersection assist, which detects oncoming traffic while turning left and alerts the driver if it senses a potential collision. Ford Co-Pilot360 Assist 2.0, according to an official order guide that InsideEVs found, will be standard throughout the entire Mustang Mach-E lineup.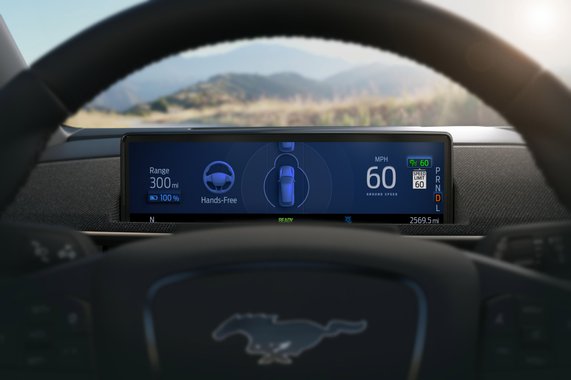 Still with us? Good, because there are a few more tech features to cover. The last safety suite to cover is Ford Co-Pilot360 Active 2.0 Prep Package. The package adds hardware, camera and radar systems, that allow owners to separately purchase Ford's new Active Drive Assist system – more on that in a second – via an over-the-air software update in 2021. This package, as Insideevs points out, is included as part of the Comfort/Technology Package on the Select trim and is standard on the California Route 1 and Premium/First Edition trims.
Active Drive Assist is Ford's hands-free, semi-autonomous driving system that only works on highways. If that sounds familiar, it's because it sounds nearly identical to General Motors' Super Cruise. Ford claims Active Drive Assist is currently operable on more than 100,000 miles of highways in America and Canada. Thanks to an advanced driver-facing camera that tracks the driver's head position and eye gaze, Active Drive Assist ensures drivers are paying attention to the road even if their hands are off the wheel. According to Ford, the hands-free system will be available as part of the Ford Co-Pilot360 Active 2.0 Prep Package upon purchase of the EV.
Lastly, we promise this is the end, there's Active Park Assist 2.0. It's an updated version of Ford's current park-assist technology. On the Mustang Mach-E, all owners will have to do is hold a button and the electric crossover will park itself in a parallel or perpendicular space. A feature called Park Out Assist is also included with Active Park Assist 2.0 that helps drivers navigate out of a parking spot in case another driver has parked a little too closely. Active Park Assist 2.0 will also be bundled under the Ford Co-Pilot350 Active 2.0 Prep Package.
With the introduction of all of the new, advanced features, Ford has clearly set its sights on a rival: the Tesla Model Y. Trying to rival Tesla, which produces some of the most high-tech vehicles on the market is a lofty goal, but Ford believes it has the Model Y beat with rear cross-traffic alert and hands-free driving – both of which aren't available on the Tesla.
However, comparing the two vehicles isn't exactly apples to apples. While Ford may have a hands-free driving system, it can't match Tesla's available Full Self-Driving Capability package, which brings more nifty features like summon, traffic light and stop sign control, auto lane change, and automatic driving from on-ramp to off-ramp on highways.
Despite finding an official order guide, pricing for all of the high-tech features is still a mystery. With Ford specifically calling out the Model Y, we think the automaker will price the comprehensive Ford Co-Pilot360 Active 2.0 Prep Package for roughly $7,000, seeing as how that's what Tesla charges for Autopilot (which is standard) and Full Self-Driving Capability. Whether drivers are willing to pay that much from Ford remains to be seen, but it's nice to see the American automaker finally make a push into the realm of high-tech electric vehicles. For those not able to get their hands on a Mach-E, not to worry. Ford announced that Active Drive Assist will be rolled out on other select 2021 models as well.