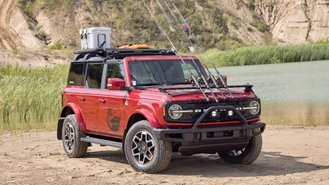 The Jeep Wrangler won't be the only off-roading SUV that lets consumers take the doors and roof off of a vehicle – the all-new Ford Bronco brings some serious competition to the popular off-roader. But having excellent off-roading capability is only one part of why the Wrangler is so admired. Another major reason consumers love the Wrangler is because it offers so much when it comes to customization. Knowing this, Ford wants to get ahead of things and revealed five new concepts, highlighting the absurd number of accessories consumers will be able to purchase on both the Bronco and Bronco Sport.
The Bronco recently turned 55 and to celebrate, Ford unveiled five new concepts. The first one is called the Fishing Guide and, as its name implies, is all about helping owners get their rods into the water. It's based on the four-door Bronco Outer Banks trim and adds a Bestop Sunrider soft-top roof, roof rails, crossbars, and a Yakima LockNLoad Platform roof rack. Using fender-mounted trail sights, owners will be able to load their fishing poles in front of the SUV and even have a comfortable place to sit thanks to a seat perch.
The Bronco Trail Rig utilizes the two-door Badlands Bronco and adds a 40-inch Rigid LED lightbar, a Ford Performance modular front bumper, tube doors, and beadlock-capable wheels. At the front, there's a Warn winch that can be used, in Ford's words, to help "rescue your lesser-equipped 4x4 friends." A Yakima Platform roof rack, recovery boards, and a rear wing-gate-mounted table are also included.
The other three concepts are centered on the smaller Bronco Sport. The Bronco Sport Trail Rig is based on the Badlands trim and is meant to make the trim even more capable when off-roading. The concept features 31-inch mud tires, a one-inch lift kit, and Rigid LED off-road lights. A Yakima LockNLoad platform roof rack and off-road gear mounts are also included and specifically designed to carry off-roading necessities like jerry cans.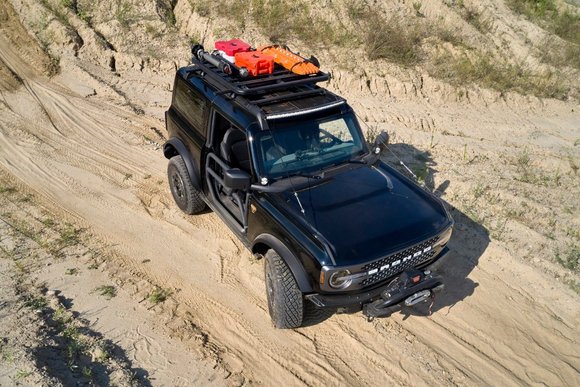 The Bronco Sport TOW RZR makes hauling cargo easier for off-roading adventures. Yakima HD Bar crossbars and an OffGrid medium cargo basket give consumers the space to haul more cargo. With the Class II Trailer Tow Package, the Bronco Sport can tow up to 2,200 pounds.
Lastly, there's the Bronco Sport Off-Roadeo Adventure patrol. This concept was designed with the Bronco Off-Roadeo in mind and features a Yakima LockNLoad Cargo Platform, a Rigid off-road LED lightbar, and an interior bike rack from Yakima. The concept also has a target for consumers to land their drones on after they're finished recording their off-roading excursion.
These concepts are more than just flashy one-offs to show off the new Bronco and Bronco Sport. They're being used to showcase all of the customization options consumers will have once the SUVs officially go on sale. Ford claims that there are more than 200 factory-backed accessories for the Bronco and approximately 100 for the Bronco Sport. While it may not rival the level of customization offered on the Wrangler, the Bronco and Bronco Sport aren't even on sale yet, so it's a good start.
At the same time Ford announced the concepts, the automaker also confirmed that the brand's first Bronco Off-Roadeo will be held in Austin, Texas. The "off-roading and outdoor adventure playgrounds" are meant to help consumers understand and become comfortable with their Bronco and Bronco Sport's off-roading capabilities. The program is available to owners of two- and four-door Broncos, as well as the Bronco Sport Badlands.
While Ford is preparing the Bronco and Bronco Sport for a fight with Jeep, consumers are going to be waiting for their vehicles for a long time. Reports indicate that some consumers are looking at an 18-month wait before receiving their models. Reservations made before the end of 2020 may not arrive until 2022. The long wait times could hurt the Bronco in the short term, but we don't see it being an issue in the long run, as consumers have waited decades for Ford to resurrect the nameplate.