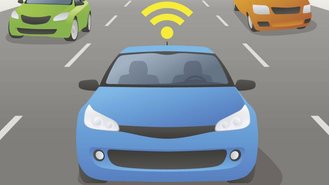 Own a Ford or Lincoln but want it to be connected to the internet? Now you don't have to buy a new car.
Ford announced January 27 it would allow owners of models built between model years 2010 through 2016 to retrofit 4G LTE wifi in their car, thanks to a new piece of hardware called SmartLink. Plugged into the OBD II port, the device lets owners lock and unlock their vehicles, check the car's status, security, and location information, and access a wifi hotspot.
More automakers are integrating wireless internet hotspots into their vehicles, mostly as a way to support vehicle functions or services such as Google, Spotify, and other built-in apps that require connectivity. While in-car wifi sounds like a lavish luxury for children on a long road trip, it's been marketed by other companies to commercial users, such as contractors who do a lot of work while sitting by their truck at a job site.
Ford's release did not specify what the retrofit would cost or what data charges users may occur if they decide to connect to the vehicle's system. But if you're a fan of in-car wifi, it already sounds like a simple solution.