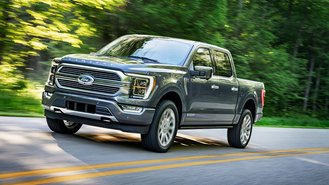 Ford's Sync infotainment system is getting a massive overhaul for the latest generation of cars. Last year, we heard that the upcoming Sync 4 system would support over-the-air updates to bring new features and software updates without requiring owners to make a trip to the dealership. Apparently, that's only a small part of the things Sync 4 will be able to do. Ford recently announced that Sync 4 will be able to find cheap gas stations, open parking spots, traffic incidents, and electric-vehicle charging stations.
The first few vehicles to get Sync 4 include the 2021 Ford Bronco, F-150, and Mustang Mach-E. Utilizing INRIX data, the infotainment system can display information on where drivers can find a parking spot on the street or in a local garage. Additionally, parking information will include important things like occupancy, fees, and restrictions. Ford claims parking information will be available for 20,000 cities in 150 countries.
When it comes to providing drivers with information on local gas stations, the information will also include real-time pricing, information on the brand, and, of course, location. The information will be available for 380,000 fuel stations globally.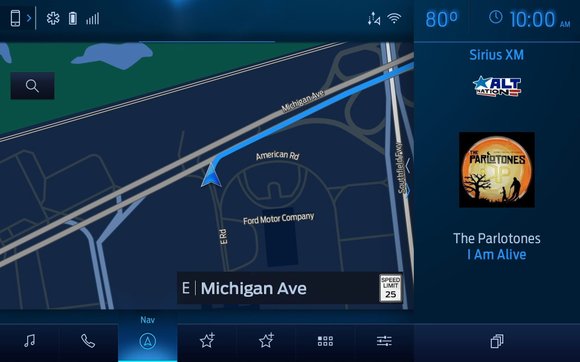 With the all-new F-150 set to launch this fall, it should be the first vehicle to come with Sync 4. Deliveries of the Mustang Mach-E are set to begin before the end of the year, making the electric vehicle the second in the line to come with the new infotainment system. Then, the two-door and four-door Broncos should start appearing next spring, bringing Sync 4 with them.
Beyond being able to assist drivers in finding a gas station or a parking spot, Sync 4 will have wireless Apple CarPlay and Android Auto compatibility. Cloud-based connectivity and voice recognition that's capable of holding a regular conversation are also included. Available machine learning allows Sync 4 to learn an owner's specific preferences and will eventually make suggestions on who to call or where to go based on previous destinations. Lastly, we expect screen sizes to grow with Sync 4. The infotainment system will be available in 8-, 12-, and 15.5-inch screens with split-screen capability.
Sync 4 will be replacing Ford's Sync 3 system, which was introduced for the 2016 model year. Navigation, voice commands, Amazon Alexa skills, and real-time navigation updates from Waze were all available with Sync 3. So, Sync 4 is going to be a massive upgrade that brings a lot more cutting-edge features. It's a much-needed update, as infotainment systems in rivals are gorgeous, easy to use, and packed with all sorts of features. On vehicles where Sync 4 isn't standard, we do expect it to be a hefty upgrade over Sync 3.