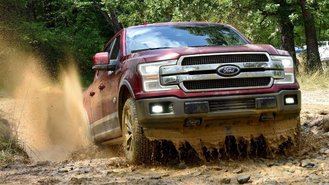 Semi-autonomous systems are already available and fully-autonomous ones capable of completely taking the driver out of the equation are (allegedly) right around the corner. But the majority of driverless systems on the road today are aimed at making the commute to work safer and more relaxing. While Ford is working steadfastly on an autonomous system for the road, which the automaker hopes to unveil by 2021, it also has plans for a self-driving system for consumers that enjoy off-roading.
According to a report by Off-Road.com, Ford was recently granted a patent for self-driving technology that would allow its pickup trucks to traverse a section of rough terrain without any input from an actual driver. Ford's patent included an easy-to-digest flow chart revealing the thought process behind the futuristic self-driving system.
Ford's system, which includes sensors, a user interface, a high-end computer processor, and either a suite of cameras, LiDAR, map data, ultrasound, or a combination of the four, can analyze and assess different types of terrain and locate any obstacles. If the truck believes it can traverse an obstacle, it controls the vehicle's active suspension system and carries on without any intervention from the driver. Pretty nifty huh?
If the pickup truck starts tackling the obstacle on its own and the driver starts freaking out, he or she can take control of the vehicle at any time. For passengers that aren't willing to put their lives into the hands of the system, they can also exit the vehicle, leaving the truck to get through the obstacle without anyone physically being inside of it.
As Off-Road.com points out, the patent also says something about a "remote device" that could possibly let the owner take control of the pickup if he or she believes that the driverless system is taking a risky route or about to crash their beloved machine.
While some may see Ford's new patent as a turnoff, as it takes them out of the driver's seat, the system could help a lot of owners learn how to go off-roading in a safe manner. The system, which has full control over the truck's suspension system, could detect large rocks and put the vehicle into its rock crawling mode, lending a helping hand to the driver. And for owners that are new to off-roading, the system could show them how it's done before completely handing the reigns over.