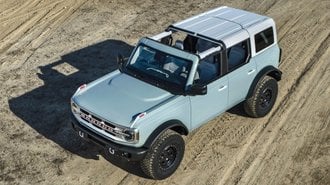 The dust hasn't even settled from Ford's unveiling of the all-new Bronco and Bronco Sport, but reports are already looking forward to an upcoming model – a possible Bronco-based pickup truck. According to MotorTrend, citing unnamed sources, a Bronco pickup truck to take on the Jeep Gladiator isn't a possibility, but a certainty.
The outlet claims that the SUV-based pickup will arrive in mid-2024 as a 2025 model, so it'll be quite a wait. Sources at Ford, though, claim the automaker is looking to move the timeline up as much as possible, with an early arrival date of 2022 being possible. From the original expected date, moving the timeline up by two years sounds like a stretch.
Unsurprisingly, the upcoming Bronco pickup truck will rely heavily on the SUV when it comes to styling, terrain-management system, G.O.A.T modes, and trim levels. The upcoming pickup truck is expected to be available in all of the same trims, including Badlands, Big Bend, Black Diamond, Outer Banks, and Wildtrak. A limited First Edition trim is also expected to be offered for the pickup. Unlike the Bronco, which is available in both two- and four-door configurations, the outlet claims the pickup truck will only be available in a four-door Crew Cab body style.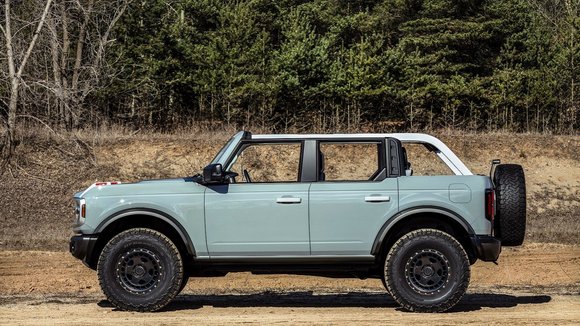 If all of this sounds familiar, this is exactly what Jeep does with the Gladiator. With the Bronco taking on the Wrangler as a direct competitor, the Bronco-based pickup truck is setting its sights directly on the Gladiator. To do that, Ford is digging into its parts bin to ensure the pickup has plenty of grunt. While the Bronco comes with either a turbocharged 2.3-liter four-cylinder or a turbocharged 2.7-liter V6, the pickup is expected to get a different engine. The outlet claims Ford will add a 3.0-liter EcoBoost V6 to the Bronco's lineup, but that engine won't be offered on the pickup either. Instead, MotorTrend believes that the automaker's powerful 5.0-liter V8 could be offered with the pickup. The outlet's unnamed sources didn't say anything about whether the V8 was a possibility.
Since the pickup truck will share a lot of the same components and features as the Bronco, MotorTrend expects pricing to resemble the SUV. Pricing for the truck should start at $30,000 and could reach $60,000 for the First Edition.
While this is a report that cites unnamed sources, a pickup truck from Ford that's based on the Bronco makes plenty of sense. Pickup trucks are incredibly popular in the U.S. and another option, especially one that puts off-roading first and offers the ability to remove the doors and roof, could prove to be lucrative for the brand. Competitors for the upcoming truck include the Jeep Gladiator, Toyota Tacoma, GMC Canyon, Chevrolet Colorado, and Honda Ridgeline.
Learn more about the new Ford Bronco »
Pictured: 2021 Ford Bronco 4-Door