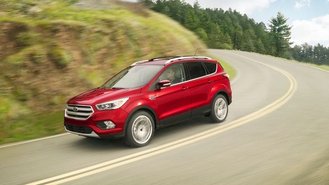 Cylinder deactivation isn't new technology. Automakers have been fitting the system onto V8 and V6 engines for some time now. Recently, brands have incorporated cylinder deactivation into four-cylinders to eek out as much fuel efficiency as possible. Now, Ford has added the tech into its 1.5-liter three-cylinder engine, Automotive News reports.

Three-cylinder and five-cylinder engines are the redheaded stepchildren of the auto industry, as few brands offer the layout in their lineups. Ford is reportedly replacing its current 1.5-liter four-cylinder motor that's found in the Escape and Fusion in the U.S. with a new three-cylinder engine with the same displacement.

The oddball of an engine is also expected to find its way into the all-new Focus that debuted earlier this month. While the automaker hasn't revealed the specifications for the U.S.-bound Focus, the turbocharged three-cylinder puts out either 140 or 180 horsepower. We're probably going to be waiting for a while to get all of the info behind the compact vehicle, too, as the new Focus will arrive in our part of the world in 2019.

Cylinder deactivation doesn't sound that exciting, especially since it's on everything from large SUVs to compact sedans now. But shutting down a cylinder on a three-cylinder engine is more challenging than having a V8 run on four-cylinders. Vibration and harshness will be hard to nail down, as smaller motors tend to emphasize roughness. It's also a rare setup, as Auto News claims that Ford hasn't offered a two-cylinder engine in more than a century.