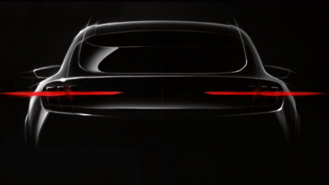 Ford has been late to the electric vehicle party, which it's looking to change with the introduction of an electric SUV that'll come out in 2020. Why a SUV? Well, you might recall that earlier this April, Ford announced that it would end production of every car in its lineup besides the Mustang. And, if you were hoping that Ford would backtrack on the decision, the automaker recently announced that it'd also stop national advertisements of its sedans and hatchbacks. But don't worry, the electric SUV will be inspired by the Mustang.
The American automaker recently released a sketch of the upcoming battery-powered SUV and the only real piece of information that we get from the drawing is that the SUV gets the Mustang's three-bar taillight design. The chunky rear fenders and slim exterior mirrors also look like they've been plucked from the pony car.
According to Green Car Reports, the vehicle will no longer be called the Mach 1 and is expected to have a range of 300 miles on a single charge. The SUV is also rumored to have similar off-roading performance and acceleration to the Ford F-150 Raptor. The electric vehicle will be one of just 16 that Ford plans to bring to production by the end of 2022.
Alongside the release of the teaser image, Ford also announced that national advertisements of its cars would come to an end in the near future. Mark LaNeve, Ford's vice president of U.S. marketing, sales, and service, told Automotive News that the decision would allow the automaker to better refocus its resources.
"If we can take that money from sedans, where we have a middle-of-the-road position, to be the leading brand in SUVs, that'd be a really good position," said LaNeve. "We clearly have the right strategy."