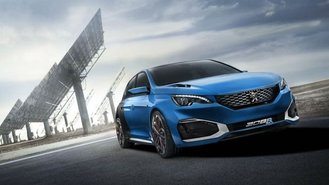 French automaker PSA Peugeot Citroën hasn't been profitable in ages, which has stifled its growth beyond Europe. Now, according to an Automotive News reports, the French company has finally clawed its way back into the black and is looking to spread its reach into other countries, namely Iran and the U.S.
Full details of this expansion are not yet available, but PSA Peugeot Citroën is slated to unveil its big plans on April 5th.
Let's be honest here: Peugeot hasn't sold a car in the U.S. since 1991, and Citroën has been out of America since 1974, so the automaker has to be prepared for some puzzled reactions. Even stranger than the return of these brands is the fact that PSA Peugeot Citroën actually had an office in the U.S. until the company finally shuttered it in 2013. The sole purpose of this office was to monitor safety and emission regulations in preparation for its eventual return to this market.
Other than the biggest question, which is whether the automaker can return to the States or not, the next biggest mystery is which brand will lead the charge. According to the head of the PSA, Yves Bonnefont, DS—Citroën's luxury brand—is the "natural fit" for the American market. The only issue with bringing DS to the U.S. is figuring out pricing as three of its largest competitors in Audi, Mercedes, and BMW all have a manufacturing presence here in the States to help keep prices in check.
Until PSA Peugeot Citroën figures out how to get back into the American market, there are plenty of great deals from other European brands. For example, well-qualified buyers can get the 2016 BMW 320i sedan on a 36-month lease for just $320 per month after paying $3,995 at signing. This deal also comes with $1,500 in credits. Alternatively, buyers can finance the same rig at 0.9 percent APR for up to 72 months.