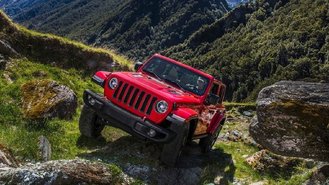 Jeep's new JL Wrangler will come with a turbocharged 2.0-liter engine that gives the SUV its best fuel economy rating while providing the most torque.
The EPA rates the Wrangler at 23 miles per gallon city, 25 mpg highway, and 24 mpg combined for the two-door version. Those who opt for the four-door Wrangler see a slight drop to 22 mpg city, 24 highway, and 22 combined.
Those who want the four-cylinder engine will have to pay more. The mill is a $3,000 upcharge over the standard V6 manual and an extra $1,000 over the automatic-equipped V6. The 2.0-liter produces 268 horsepower and 295 pound-feet of torque compared to the V6 that makes 285 hp but just 260 lb-ft of torque. Also, an eight-speed automatic is the only transmission available for the 2.0-liter engine.
However, those wanting the best Wrangler performance may have to wait a bit. The company is working on an upcoming engine option that should delight hardcore off-road enthusiasts: a diesel engine. The engine – a 3.0-liter V6 – will produce the least amount of horsepower of any Wrangler engine at 260 and will create 442 lb-ft of torque. There's no indication when that motor will be available.