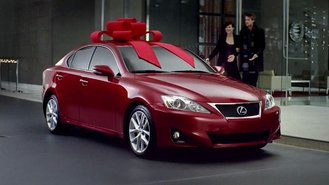 Momentum from the past two months will carry into the new year, with sales of new cars, trucks and crossovers leaping 10% year-over-year. That brings the total number of vehicles sold to date at a staggering 16.5 million.
End of the Month Deals on a New Car »
The Four Reasons
The perfect storm of low fuel prices, aggressive incentives, favorable weather and new model launches all combined to increase the tally.
Deals & Rebates on 2014 and 2015 Models »
What It Means for You
Auto manufacturers have until Friday January 2nd, 2015 to complete sales transactions that will count towards 2014 quotas. That means that today and tomorrow are flat-out the best days to buy a new vehicle, because dealerships will be extremely aggressive to close deals that will boost volume and subsequently their bottom line.

Special Incentives
To help ignite sales even further, manufacturers like GM are offering solid 20% discounts on popular models like the Camaro and Cruze.
Closeout deals will be available on many outgoing 2014 models. They might not carry the shiny and happy 2015 model year, but more often than not, the outgoing 2014 model is almost identical, sans price.