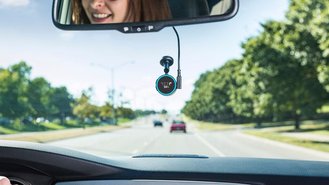 You no longer need to purchase a new BMW to get access to Amazon Alexa in a vehicle. Garmin, the technology company behind GPS systems, developed a new device – Garmin Speak – that includes Amazon Alexa integration. According to Garmin, the new unit is the first of its kind to offer consumers hands-free access to the company's turn-by-turn GPS navigation and Amazon Alexa.
Garmin Speak is a compact device that measures in at 1.5 inches and features a LED light ring and an OLED display that provides directions. The also device provides directions verbally. On the flip side of things, thanks to Alexa, Garmin Speak can provide users with weather forecasts, sports results, traffic updates, and more. The device also allows users to access any smart appliances they have back at home, including lights, the thermostat, and locks.
All users have to say to get directions is: "Alexa, ask Garmin to route me to…" a location of their choice. The device works in tandem with the free Garmin Speak smartphone app by using the phone's data connection to retrieve Alexa's responses to requests for music, directions, and more. Via an AUX connection or Bluetooth, the vehicle's speakers relay responses and verbal directions to the driver. Drivers can also accept or reject incoming phone calls.
Garmin Speak attaches to a vehicle's windshield via a magnetic mount for easy removal. The device is already on sale for $150 at Amazon, Best Buy, and other retailers.