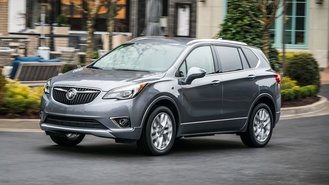 The Trump administration is looking to increase the proposed tariffs on Chinese-made cars and parts to 25 percent. The Buick Envision is built in China, which is why General Motors sent a formal letter to the federal government to petition for the SUV to be exempt from the tariffs.
GM's letter, which you can read in its entirety here, is directed toward US Trade Representative Robert Lighthizer and requests an exclusion for Buick's mid-size SUV as it rounds out the brand's lineup. GM also claims that the Envison's small sales figures in the country "would never support a manufacturing plant in the US," but plays a large role in competing with foreign brands like BMW, Volvo, Audi, and Lexus.
Speaking of sales, GM claims that Buick sold 41,040 units of the Envision in the US last year. That figure dwarfs what the automaker did in China with the SUV, as it sold a total of 210,683 units of the Envision in 2017.
If GM can't find a way for the Trump administration to exclude the Envision from the import tariff, the automaker claims that the model could get the axe.
"A 25 percent tariff on the Envision may eliminate the vehicles from Buick's US offerings," stated the automaker in the letter.
GM also went so far as to state that it doesn't believe that the Envision is "relevant" to the Section 301 tariffs, which it believes focuses on self-driving cars and electrified vehicles. While the Envision isn't as popular in America as it is in China, the SUV still, according to GM, helps the automaker employ 110,000 individuals and have 50 manufacturing facilities in the US.
The request was filed on July 30 and asks for 40,000 units of the Envision to be exempted from the tariff every year.